Instead of going over the Channel to visit foreign lands, we decided that we would have our 2015 holiday going north to where we were born and brought up.

I has been quite a while since we had been up, in fact it was 20 years !

So how much has changed, could we recognise it all again ?

We planned an itinerary to cover places such as St James Park, Chester-le-Street, Bishop Auckland, North Shields, Blyth and Alnwick. These were all related to events from our past.

Furthermore I contacted two friends, my best man and a school friend to meet them for lunch to see if they had changed !

I booked a lovely hotel next to the Angel of the North and when the day came we set out in Simons new car to run 300 miles up to the County of Durham...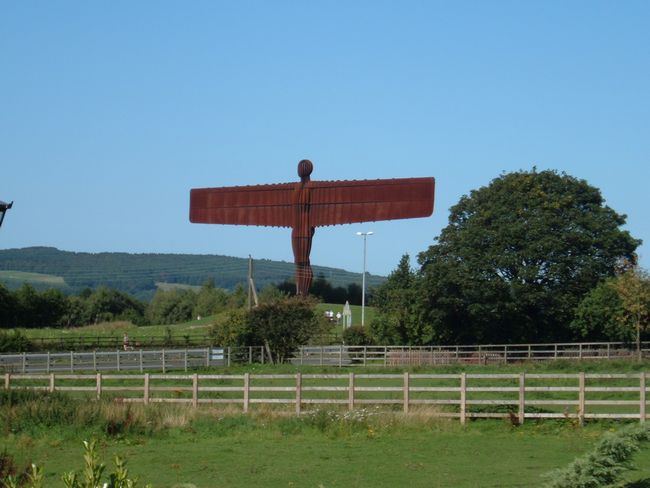 THE ANGEL OF THE NORTH
| | | |
| --- | --- | --- |
| THE COUNTIES OF THE NORTH | - | OUR HOTEL THE ANGEL VIEW INN |
| | | |
| --- | --- | --- |
| IAN AND COLIN | - | DOREEN AND CAROLE |
| | | |
| --- | --- | --- |
| THE TYNE BRIDGE | - | THE R V I |
| | | |
| --- | --- | --- |
| THE STRAWBERRY INN | - | THE NORTHERN GOLDSMITHS |
| | | |
| --- | --- | --- |
| St JAMES PARK | - | OUR BRICK |
| | | |
| --- | --- | --- |
| PERCY ARMS | - | 9 ALSTON CLOSE |
| | | |
| --- | --- | --- |
| TYNEMOUTH BEACH | - | TYNEMOUTH CASTLE |
| | | |
| --- | --- | --- |
| TOM AND GLENDA HOPE | - | I LIVED HERE 1945-1968 |